Import Collection From Book Collector
Booknizer is a pretty flexible book organizer that can download information about books and authors from various sources in a number of languages. You can easily add your paper books, e-books, and audio books into the program in a number of ways: by title, scan barcodes, scan e-book files, scan folders with audio files.
If you used a different library program previously, Booknizer can help you transfer your existing data. The program includes several plugins capable of transferring book collection data from certain book organizers. Furthermore, Booknizer automatically detects if the supported programs are installed on your computer and displays this window, when you start it: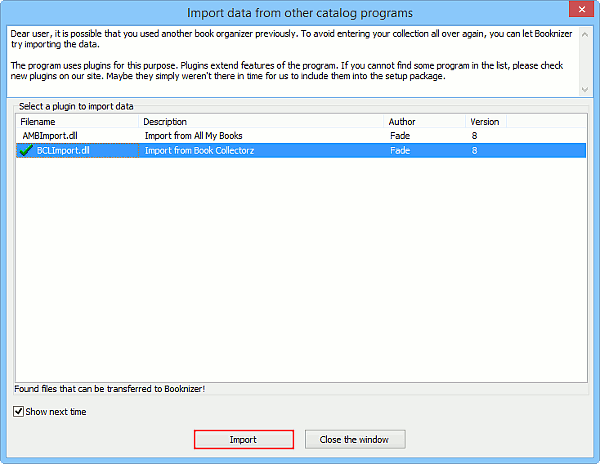 You can also open this window from Booknizer, selecting "Plugins" - "Transfer data from other catalog programs":

In this article, we will import an existing library from Collectorz Book Collector.
As first, you should export information about your books from Book Collector into an XML file. Start Book Collector, select "File" - "Export to" - "XML":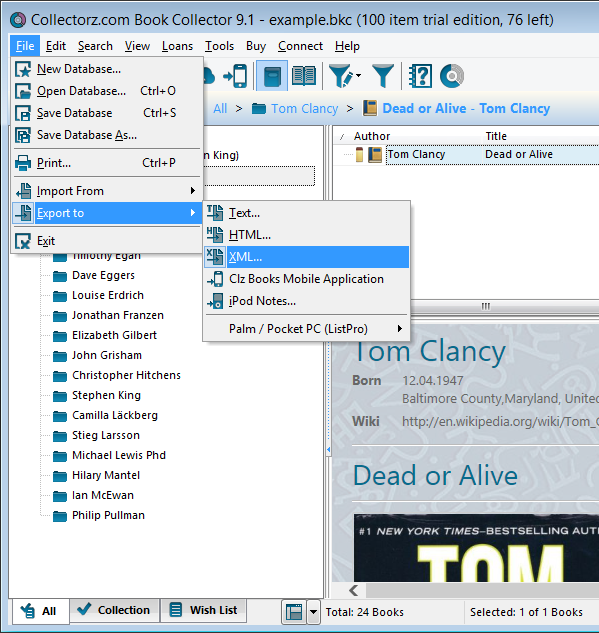 A small window will pop up, prompting to choose a location and a filename:

Click on the "Browse" button and select a folder for your XML file. Enter some filename, for example, "books". Finally, click "Export" on the right.
Book Collector will create an XML file containing information about your books in the folder that you specified.
Now let's start Booknizer. It will display the "Transfer data from other catalog programs" window. If not, you can select "Plugins" - "Transfer data from other catalog programs", as described above.
In the window, select the "Import from Book Collectorz" item and click "Import" at the bottom. This will open a smaller window: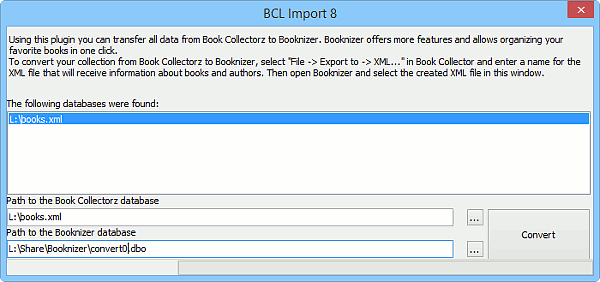 In most cases, Booknizer will automatically detect the XML file you created with Book Collector and suggest a filename for your future Booknizer database. If no XML was found, click the "..." button next to the "Path to the Book Collectorz database" field and select the file you've created.
You can also select a different folder and enter a different filename for your Booknizer database.
When everything is ready, click the "Convert" button in the right lower corner of the window.
Import from Book Collector may take from a few seconds to a couple of minutes, depending on the size of your library. When it's complete, Booknizer will open the imported database: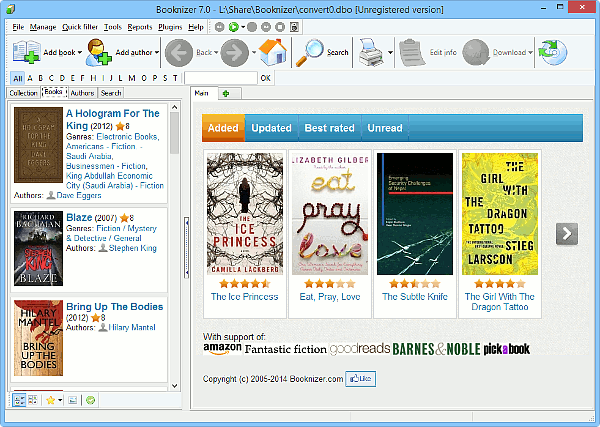 From now on you can use all features of Booknizer: search and sort your library in different ways, apply filters, use custom fields and lists, create reports, download biographies, bibliographies and photos of autors, etc.