Book Collection
Booknizer offers numerous features that help sorting and searching for various editions of paper, electronic and audio books from your library. You can search using several parameters simultaneously, use quick search, quick filter, sort the main list of books in different ways.
Additional ways of sorting your books are available on the "Collection" tab. Here you can group your books according to different parameters. For example, on the screenshot below the books are grouped by genres: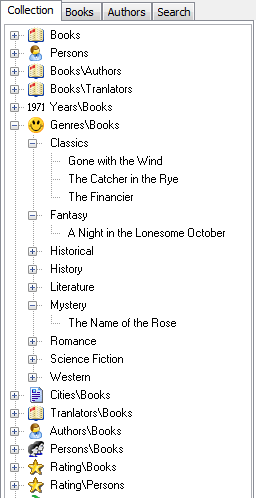 You can customize elements of the "Collection" tab. Click "Manage" - "Customize collection":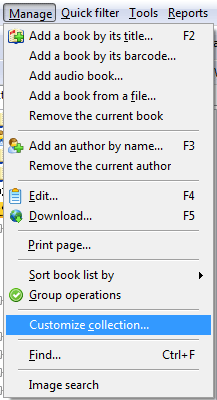 A new window will be shown. Here you can change the existing formats, remove the ones you do not need, and add new grouping formats: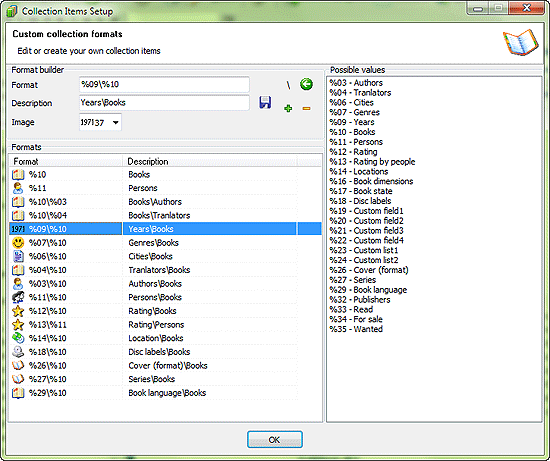 To add a new format, enter the desired variables into the "Format" field of the builder. All available variables along with their values are listed on the right.
Enter some description for your format into the "Description" field, it will be shown on the "Collection" tab. Additionally you can specify an image that will help you find your new format in the list quickly.
Finally click the green plus on the right from the description field to add your new format to the list. If you want to remove an existing format from the list, select it and click the yellow minus. To edit an existing format, select it, adjust its "Format", "Description" and "Image" fields and click the diskette button.
After customizing the collection list, click "OK". The window will be closed, and you will see your new formats on the "Collection" tab.