Search Your Home Library
Booknizer is a powerful and convenient home library organizer. It will scan the folders you choose and collect information about electronic and audio books from these folders. Paper books can be added to the catalog using their titles or barcodes / ISBN.
After adding books you can quickly find or select a book using such features as quick filter, quick search, various sorting options of the "Collection" tab. The "Search" tab offers additional options for selecting books.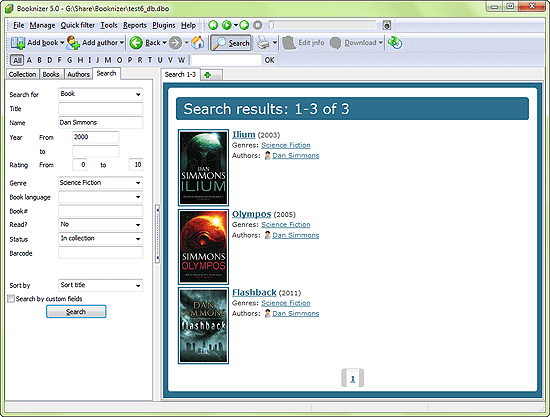 Here you can enter several search parameters. This allows using complex conditions, for example, show all unread science fiction books by Dan Simmons published after 2000 (see the example on the screenshot above). In just the same way we can select all read books written by Dan Brown with a certain rating. The list of results is sorted according to the "Sort by" field, you can simply select the necessary value from the list.
If you want to use values of the custom fields in your search, check the "Search by custom fields" box just above the "Search" button.
The number of results on a search page is controlled by the settings menu of the program.
You can print or export your search results using Reports.