Sort The List Of Books
Booknizer offers numerous ways of filtering and sorting the books that you added to your catalog. The "Collection" tab offers quite a number of sorting formats, and you can customize the list, adding new formats or removing the existing ones. The "Search" tab allows selecting books by multiple parameters and sorting them as you want.
One of the options is the ability to sort the main list of books by certain criteria. To switch between different sorting modes, select "Manage" - "Sort book list by" - necessary value.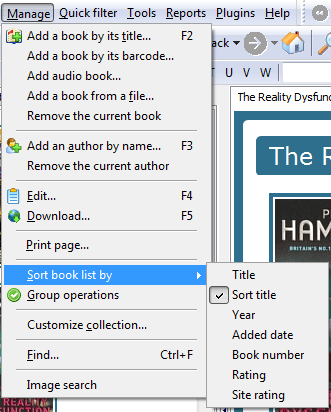 The main list of books can be sorted by title, sort title, year, date when the book was added to the database, number of the book, user rating, site rating.
Sort title is a special field that is filled out automatically as you add books, using the rules from the "Title sort" tab of the "Options" menu: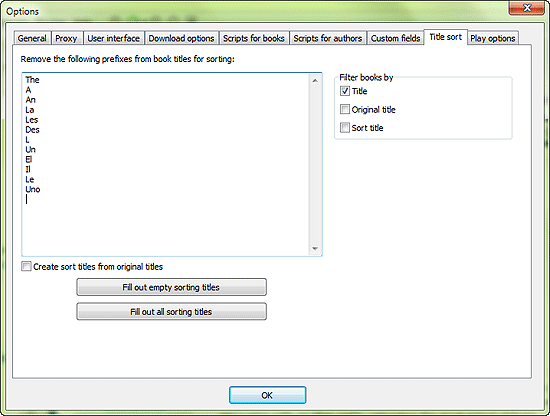 Here you can edit prefixes that should be removed from book titles when creating sorting titles, choose to create sorting titles using the original title field, and fill out either empty or all sorting title fields by generating new sorting titles according to the updated rules.
The sorting title field of a particular book can also be edited manually in the "Edit info" window. Click the "..." button next to the title of the book: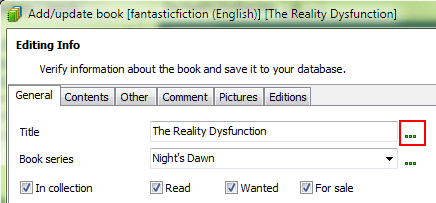 A new window will be shown. Here you can edit the original and the sorting title fields: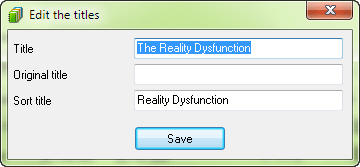 We can use sorting titles to group books from a certain book series together. For example, if we want all books from the Night's Dawn series to appear in the correct order in the main list of books, we can change the corresponding sorting titles to something like: "Night's Dawn 1. The Reality Dysfunction", "Night's Dawn 2: The Neutronium Alchemist", etc.
The order of books in the main list is the same as the order of books in Reports (with the exception when a report is created from search results).