Format Icons For E-books
Booknizer can manage all sorts of books, including paper books, audio books and e-books. E-books can be added by title, but it is easier to use the "From files and folders" option. First of all, Booknizer will extract basic information from files and save it into its database. Additionally, you will be able to synchronize your e-books with e-book reader devices, read e-books directly from the program, etc.
When a book in Booknizer is linked to an e-book file, a book icon is displayed in the title of the corresponding edition on the book's page: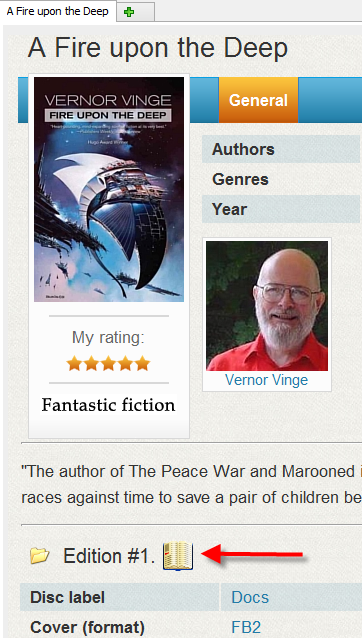 You can click this icon to read the book.
This icon comes with the user interface theme. You can replace it with a different one by replacing the corresponding file in the theme's folder (in Booknizer\Pictures\Themes). However, when you install a newer version of the program, the default set of pictures will be restored.
On the other hand, there is a feature that allows displaying custom icons for various e-book formats. For example, we added a logo for the EPUB format: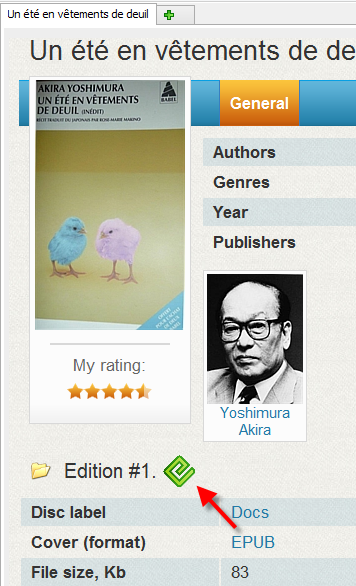 You can create your own set of icons, and they will not be overwritten by a newer version of the program. Furthermore, format logos will help you recognize formats of your e-book at a single glance.
To start creating a set of format icons, create a new folder in Booknizer\Pictures with the name: FormatIcons.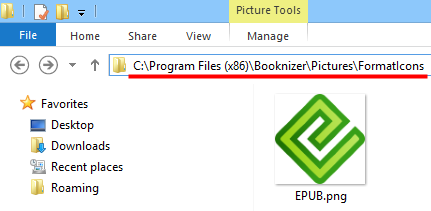 Now you can save pictures in the PNG format into this folder. Use the filename extension of the corresponding e-book format as the filename of your format icon. For example:
Filename for an icon of the EPUB format: epub.png
Filename for an icon of the PDF format: pdf.png
Filename for an icon of the MOBI format: mobi.png
... and so on.
Booknizer uses 32*32 icons. Bigger or smaller images will be resized on page display. If their aspect ratio is different than 1:1, the images will be distorted.
Images with the transparent background will look better.
If an e-book is stored in an archive (ZIP, RAR), Booknizer will use the icon for the corresponding archive format (if available). Otherwise, the default icon will be used.
Any icons that you add into the FormatIcons folder will be used automatically. If Booknizer does not find any icon for some format, it will simply use the default one.